Den 23:e februari 2021 föreläste jag (Thomas Hesslow) och Liv Raissi på Zoom om ISTDP vid traumarelaterade svårigheter. I den här texten beskriver jag några av de centrala saker som vi lyfte fram, och besvarar några av de frågor som dök upp under kvällen som vi inte hade tid att svara på.
Här kan du se en inspelning av föreläsningen:
Traumarelaterade svårigheter
De flesta personerna som är med om traumatiska händelser utvecklar inte långvariga svårigheter som en konsekvens av detta. Men för personer med olika genetiska och miljörelaterade sårbarhetsfaktorer kan en traumatisk händelse orsaka stora och ihållande svårigheter. Bakomliggande obearbetade traumatiska erfarenheter är inte sällan bidragande orsaker till PTSD, komplex PTSD, funktionella somatiska besvär, personlighetsproblematik och behandlingsresistent depression, för att nämna några psykiatriska diagnoser. Inom ISTDP ligger vårt fokus på att adressera de känsloregleringssvårigheter som orsakar symptomen: alltså de olika ångestreaktioner och försvar som hindrar en person från att spontant återhämta sig efter traumatiska erfarenheter.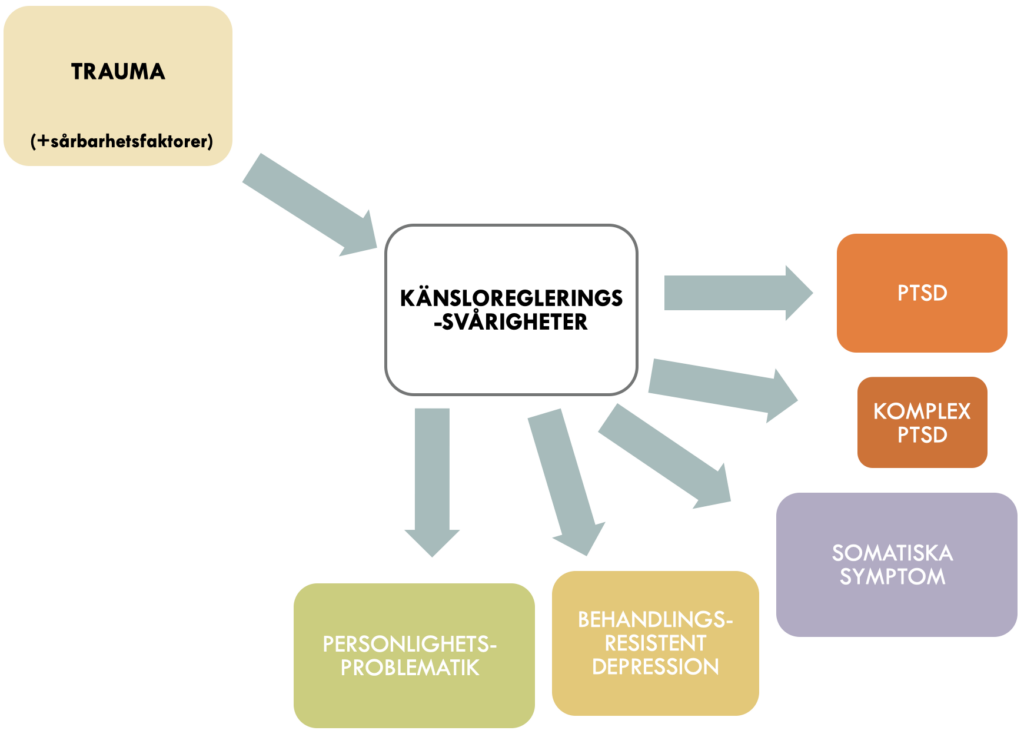 Behandlingsrational i andra terapiformer
De behandlingar som har mest vetenskapligt stöd vid posttraumatisk stress – den diagnos som kanske mest förknippas med trauma – är "traumafokuserade", vilket innebär att den centrala terapikomponenten är att patienten på eller ett annat sätt pratar om den traumatiska händelsen. Exempel på dessa behandlingar är Prolonged exposure (exponeringsbaserad KBT), Cognitive processing therapy (kognitiv terapi) och Eye movement desensitization and reprocessing (psykodynamisk traumafokuserad behandling).
I Prolonged Exposure (PE) sker behandlingen genom att patienten efter några förberedande timmar sluter ögonen och berättar om en traumatisk händelse upprepade gånger i presens: "Jag säger hejdå till mina vänner. Jag börjar gå hemåt. Jag svänger runt hörnet in på min gata. Plötsligt hör jag någon som kommer springandes…" Genom att om och om igen återvända i sinnet till den traumatiska händelsen kan olika känslomässiga reaktioner under trygga omständigheter ges plats och över tid mattas av. Den avsedda läkande processen är att reaktionerna på detta sätt gradvis släcks ut – en beteendeterapeutisk mekanism som kallas för extinction learning.
De senaste åren har dock fler och fler studier visat att även traumabehandling som inte fokuserar direkt på traumat kan vara effektiv, till och med mer effektiv än de ovan nämnda varianterna. Exempelvis har Present-Centered Therapy (PCT) och Interpersonell Terapi (IPT) i flera randomiserade-kontrollerade studier visat sig ha lika goda resultat som traumafokuserad terapi, även om terapeuterna inte fokuserar på själva traumat: "IPT therapists may neither evoke nor encourage exposure to trauma reminders." (Markowitz et al., 2015). Genom att fokusera på interpersonella svårigheter och försöka lösa de aktuella problem som patienterna står inför verkar det alltså som att flashbacks och andra PTSD-relaterade symptom minskar. Fördelarna med en terapi som inte fokuserar direkt på trauma är att patienter mer sällan hoppar av, och det finns även indikationer på att patienter som lider av samtidig depression och PTSD får mer hjälp av en terapi som inte fokuserar på traumat.
ISTDP: att aktivera och följa den omedvetna alliansen
Snarare än att specificera ett visst innehåll som terapin ska handla om (såsom traumat, interpersonella relationer) så utgår ISTDP för traumarelaterade svårigheter från att terapin ska följa vad som kallas för den omedvetna terapeutiska alliansen (the unconscious therapeutic alliance, UTA). Med detta begrepp syftade Davanloo på den inre, spontana längtan efter utveckling och läkande som varje människa bär på, men som ångestreaktioner och försvar ställer sig i vägen för. Detta innebär alltså att terapiförloppen kan se väldigt olika ut beroende på vad den individuella patientens omedvetna terapeutiska allians lyfter fram i terapirummet. Ibland kommer terapisessionerna att handla om aktuella problem, ibland om hur patienten drar sig undan från terapeuten och ibland om traumatiska minnen – vi låter den omedvetna alliansen sätta agendan.
Terapeutens roll i ISTDP är alltså inte att definiera vilken väg terapin ska ta, utan snarare att bjuda in till ett öppet samarbete kring patientens besvär utifrån patientens egen definition. När terapeuten på detta sätt erbjuder möjligheten till en trygg och läkande relation aktiveras den omedvetna alliansen, vilken i sin tur ofta plockar fram känslor, minnen och bilder relaterade till traumatiska erfarenheter. Terapeutens uppgift är i detta läge att hjälpa patienten att plocka fram mer känslor, minnen och bilder, samt att reglera ångest och blockera försvar som hindrar denna självläkande process från att äga rum. Allan Abbass brukar mycket förenklat förklara detta ungefär på följande sätt: 1) Try to attach to the patient, 2) Stuff will pop up, 3) Deal with the stuff.
Vissa patienter kommer att direkt vilja prata om sina trauman, och dessutom ha tillräckligt goda känsloreglerande förmågor för att göra detta på en gång. Då kan terapeuten underlätta för detta genom att försöka bidra till en trygg, validerande kontext. Andra patienter kommer behöva hjälp att utveckla en högre känsloreglerande förmåga innan de är redo för att prata om sina trauman – om de gör det för tidigt så kommer de få för hög ångest i form av exempelvis svårigheter att tänka klart, svårigheter att prata, svimning, dissociation, yrsel och så vidare. Då behöver terapeuten till exempel förmedla detta till patienten:
Jag märker att din kropp reagerar kraftigt just nu. Snarare än att du får chansen att vara fullt ut närvarande nu när du pratar om ditt trauma så verkar det som att ångesten blir hög och att din hjärna stänger ner. Ska vi hjälpa dig att sänka ångesten först, innan vi går vidare och pratar om ditt trauma? Så att du kan få ut så mycket som möjligt av det här samtalet?
Ibland blir alltså ISTDP verkligen en "traumafokuserad" behandling, medan det ibland tar lång tid av arbete med ångest och försvar innan patienten är redo för att direkt undersöka traumatiska upplevelser och känslor kopplade till dessa.
I de rollspel som jag och Liv genomförde i föreläsningen (se Youtubeklippet längst upp här i texten) illustrerade vi två sådana processer. När terapeuten bjuder in till ett samarbete visar patienten på olika sätt upp de inre hinder som står i vägen för de egna läkande processerna. I det första exemplet (när Liv var patienten, 28 minuter in) handlade hindren om försvar kopplade till självkritik, och hög ångest i form av illamående. I det andra exemplet (när jag var patienten, 1h4min in) var det hinder i form av ett mer regressivt försvar: en projektion om att vården inte ville hjälpa mig.
Att utveckla en högre känslotolerans
För patienter med känsloregleringssvårigheter utgår ISTDP från att terapin behöver hjälpa patienten att öka sin känslotolerans. Något förenklat sker detta genom att man utforskar känslor gradvis, och är noggrann med att löpande stämma av med patienten som ångesten inte är för hög. Så vad menar vi då när vi säger att ångesten är för hög? Jo, att ångesten gör personen svag och avstängd på olika sätt. Antingen genom en överaktivering av glatt muskulatur, som kan leda till trötthet, magoro och torr mun. Eller genom kognitiva eller perceptuella rubbningar såsom svårigheter att tänka klart, se klart och höra klart. Vi delar in ångesten i tre olika kategorier: tvärstrimmig muskulatur, glatt muskulatur och kognitiva-perceptuella rubbningar. När ångesten kanaliseras i tvärstrimmig muskulatur är detta en signal att patienten är redo för mer utforskande. När ångesten snarare kanaliseras i någon av de andra två kanalerna så behöver vi göra något för att reglera ångesten.
När ångesten är för hög behöver vi göra olika saker för att reglera ner den, såsom till exempel tänka kring känslor snarare än att närma sig dem upplevelsemässigt, flytta fokus till ångestreaktioner i kroppen eller byta samtalsämne. I figuren nedan ges en schematisk bild av hur ett terapiförlopp kan utspelas över tid när patienten behöver utveckla starkare känsloreglerande förmågor för att tolerera känslor fullt ut.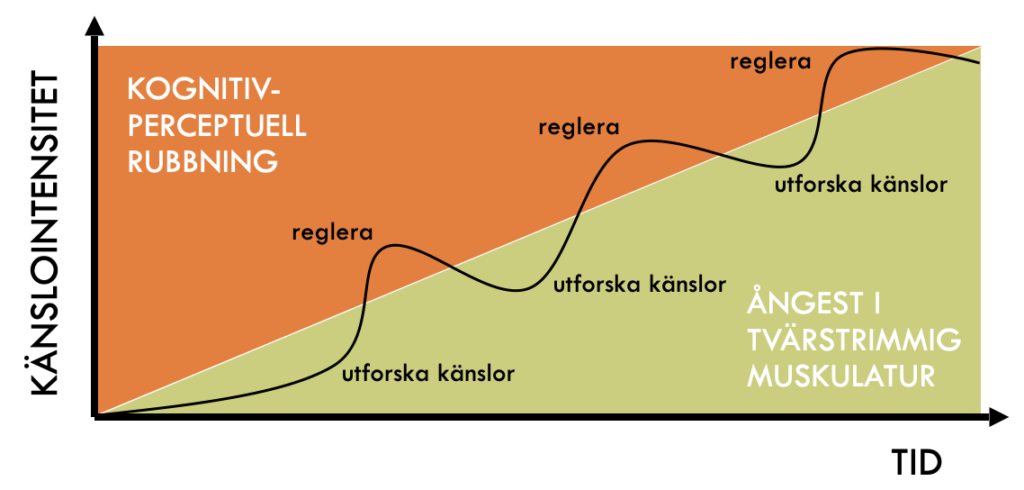 Ett vanligt tecken på att en ISTDP-terapi fungerar är att det blir alltmer tydligt att patienten kan prata om traumatiska händelser utan att ångesten blir för hög. Ett annat tecken kan vara att en person som fokuserat väldigt mycket på problem i vardagen plötsligt spontant vill prata om traumatiska händelser som på olika sätt har lett till utvecklandet av olika former av undvikande och försvar. När dessa spontana händelser sker så ser man detta som att den omedvetna alliansen är starkare än tidigare, och ångest och försvar står inte i vägen för den lika mycket längre.
Att följa den omedvetna alliansen (UTA) är att visa en kontinuerlig tilltro till att patienten själv kommer veta (medvetet eller omedvetet) i vilken ordning saker behöver undersökas och bearbetas för att patienten själv ska tolerera det. Detta ställer stora krav på terapeutens närvaro, öppenhet och flexibilitet, samt dennes förmåga att känna igen tecken på en aktiverad omedveten allians samt ångest och försvar som står i vägen för denna.
Komplex traumatisering
Om en person varit med om upprepade och svåra trauman ökar risken för att olika former av inre fragmentering ska ske. Otto Kernberg kallar detta för "identity diffusion", och lyfter fram detta som ett av kärnkriterierna för att bedöma hur svårt sjuk en person är. Mer fragmentering innebär i regel en längre behandlingsprocess, eftersom mycket arbete behöver ske med att hjälpa patienten att observera och förstå många olika inre fragment.
Utifrån ISTDP-ramverket så sker denna form av arbete vid svårare former av traumatisering också genom att terapeuten följer patientens omedvetna allians. De fragment som behöver uppmärksamhet och omsorg kommer spontant att dyka upp när terapeuten bjuder in till samarbete: "Vad vill du att vi hjälper dig med idag?". Jon Frederickson betonar att terapeuten här behöver kunna vara bekväm med att systematiskt adressera förnekelse, splitting och projektioner för att bemöta denna mer svårt sjuka patientgrupp. Han beskriver detta i detalj i sin senaste bok, Co-creating Safety.
När ska vi erbjuda istdp?
Vad gäller ISTDP för traumarelaterade somatiska besvär, komplex PTSD, behandlingsrefraktär depression och personlighetssyndrom finns det i nuläget ett antal randomiserade-kontrollerade studier som ger metoden stöd. Se till exempel här, här, här och här. Utmaningen för implementeringen av ISTDP vid dessa tillstånd ligger i att behandlingarna ofta är mycket komplexa och stora krav ställs därför på terapeutens skicklighet.
I fallet med PTSD så bör ISTDP inte erbjudas som ett förstahandsalternativ, eftersom forskningsläget fortfarande är svagt. I nuläget finns det inga randomiserade-kontrollerade studier som undersökt ISTDP specifikt för PTSD. Men vid Allan Abbass mottagning i Kanada har man behandlat många patienter med PTSD, och då har man sett att många kan få hjälp, även efter bara en handfull sessioner. Så om en patient inte får resultat av en evidensbaserad PTSD-behandling kan ISTDP övervägas som ett behandlingsalternativ, givet att man utvärderar noggrant (exempelvis med PCL-5 varje vecka) och i samråd med patienten.
---
Här är våra powerpoints från föreläsningen:
---
Om du vill lära dig mer om ISTDP vid traumarelaterad problematik kan du anmäla dig till vår introduktionskurs pre-core som ger dig de generella grunderna inom ISTDP för traumarelaterade och andra svårigheter. För dig som redan är inskriven på coreutbildningen finns det flera möjligheter till fortsatt fördjupning under våren 2021: Ange Cooper om komplex PTSD, Joel town om ISTDP för sköra patienter och Allan Abbass om svårt sköra patienter