Under sommaren publicerade Javier Malda Castillo med kollegor en fallserie där de undersökt om ISTDP är effektivt med en corestudent som behandlare. Studien är ytterligare en – om än liten – som visar att ISTDP har stor potential för behandlingsresistenta patienter i psykiatrin.
En trend i psykoterapiforskningen just nu är att utveckla behandlingar som är baserade på några få, starka principer. Detta gör behandlingen lätt att lära ut och implementera i stor skala. Detta "minimalistiska" ideal kännetecknar exempelvis beteendeaktivering för depression (BA), som huvudsakligen bygger på schemaläggning av aktiviteter, och prolonged exposure för PTSD (PE), som fokuserar på att i stor detalj återberätta den traumatiska händelsen i förstaperson. Upphovskvinnan Foa skriver såhär om sin terapiform: "Compared to other EBTs for PTSD, the techniques used in Prolonged Exposure are simple and easy to learn and straightforward to deliver". Både PE och BA har visat sig vara möjliga att lära sig genom kortare kurser, och de har goda effekter även när relativt lågutbildad sjukvårdspersonal tillhandahåller behandlingen. Det finns även indikationer på att behandlingarna har goda effekter även vid komplexa tillstånd, såsom svår depression, psykos eller borderlineproblematik.
Men den motsatta trenden finns också, med mycket omfattande terapimodeller som sprider sig snabbt över världen. Ett exempel på detta är dialektisk beteendeterapi, DBT, vars manualer är tusensidiga och innehåller ett enormt smörgåsbord med olika interventioner för olika typer av problem och situationer. Behöver patienten hjälp med hur man kan avsluta relationer på ett bra sätt? Hoppa till sidan 280. Drömmer patienten mardrömmar? Läs avsnittet som börjar på sidan 398. Detta innebär att metoden blir svårare att lära sig och att det är svårare för terapeuterna att uppnå följsamhet till manualerna, eftersom det finns så många detaljer att bemästra. Men bredden innebär också att behandlingen får en större räckvidd att behandla många olika problem och varianter av problemen, eftersom manualerna ger tydlig information om hur behandlingen ska anpassas.
Även om ISTDP bland annat är ett försök att strömlinjeforma psykodynamisk terapi och koka ner ett stort och brett fält till några få centrala principer (the more you feel, the more you heal etc.) så finns det en stor komplexitet och detaljrikedom i metoden som tar flera år att lära sig. På ett sätt liknar ISTDP alltså den typen av smörgåsbord av interventioner som vi hittar inom DBT. Jon Frederickson säger ibland att ISTDP inte är en behandling utan snarare flera olika behandlingar, som även om de delar några grundläggande principer kan se väldigt olika ut för olika patientgrupper. Att lära sig grunderna i att arbeta med trianglarna är en sak, men att dessutom behärska bracing, head-on collision och strukturell integration är något annat. Ju mer vi använder oss av vårt mikroskop – videokameran – desto mer detaljer att observera, kategorisera och utveckla interventioner för att bemöta. Så även om de grundläggande principerna för ISTDP är "enkla", så innehåller manualerna och den orala ISTDP-traditionen mycket specifika instruktioner för hur principerna tillämpas i olika situationer.
I intervjun som vi gjorde med Joel Town tidigare år pratade han lite om denna utmaning. Då sa han bland annat att det finns aspekter av ISTDP som är svåra att lära sig, och att ett sätt att se till att ISTDP skulle kunna spridas mer i världen vore att tona ner "det intensiva" – vilket han dock inte såg som en eftersträvansvärd väg att gå. Dock sa han att vi behöver utveckla en utbildningsform som gradvis lär ut lagom mycket färdigheter, för att förebygga att studenterna tappar motivation eller hoppar av.
Är corestudenter effektiva terapeuter?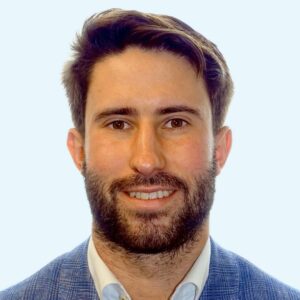 Så leder det faktum att ISTDP är svårt att lära sig till att nyblivna ISTDP-terapeuter har bristande effekter?
Flera studier har under de senaste åren visat att corestudenter är effektiva ISTDP-terapeuter. Allan Abbass grupp i Halifax, den norska gruppen i Drammen och en grupp italienska terapeuter har tidigare publicerat data som visar att ISTDP kan vara effektivt när behandlingen tillhandahålls av corestudenter.
Nu har Javier Malda Castillo med kollegor gjort en liten studie där de undersökt om en corestudent kan behandla behandlingsresistenta psykiatripatienter på ett effektivt sätt. Vid studiens genomförande var Javier – den enda terapeuten i studien – nästan färdig med Coreutbildningen i London. Forskargruppen tillfrågade patienter som ingick i Javiers sedvanliga behandlingsuppdrag inom den brittiska psykiatrin (NHS) om de var intresserade av att delta. Detta innebar att behandlingarna var mellan 16 och 24 sessioner, och att patienter med olika primära diagnoser och symptombörda deltog.
Deltagarna fick fylla i vanliga symptomskalor såsom CORE, BSI och PHQ-9 (klicka här om du vill läsa mer om utfallsmätning) före och efter terapin, samt åtta veckor efter avslutad terapi. I snitt hade de åtta deltagarna haft kontakt med psykiatrin i fyra år, fått minst en psykologisk behandling förut (KBT, DBT eller EMDR) och de flesta hade flera pågående farmakologiska behandlingar. Diagnostiskt var det spretigt så som det oftast är i psykiatrin: egentlig depression, GAD, borderline personlighetssyndrom och PTSD. En av deltagarna hade paranoid personlighetsproblematik. Merparten hade gjort självmordsförsök tidigare.
Efter i snitt 17 sessioner hade sex av dem förbättrats, och detta höll i sig för de fyra vars uppföljningsdata gick att få tag på. En av deltagarna hoppade av efter fyra sessioner. Inga allvarliga bieffekter eller händelser förekom.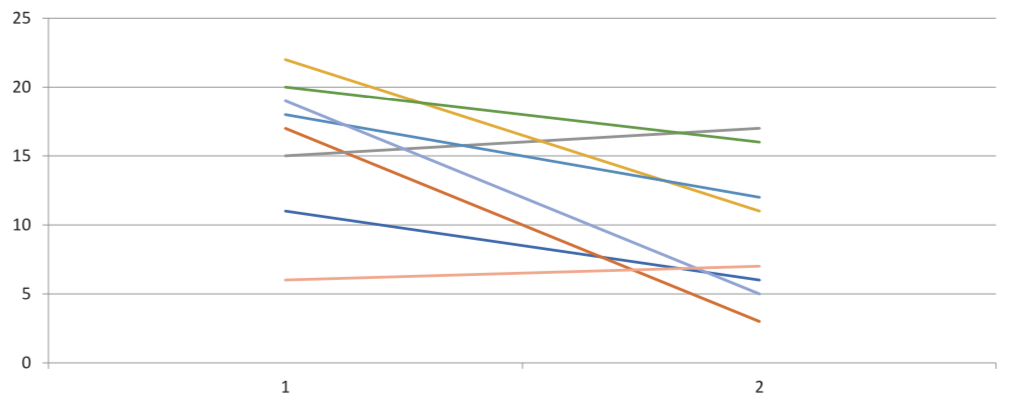 Do it yourself
Så även om ISTDP är en väldigt omfattande metod som tar lång tid att behärska tycks det vara så att terapeuter under utbildning ändå kan ha goda effekter i sina behandlingar. Bara för att en terapeut inte kan alla recepten på smörgåsbordet så behöver inte det betyda att den inte kan erbjuda någonting ordentligt att bita i.
Vidare så är studien av Malda Castillo med kollegor ytterligare en i mängden av studier som visar att ISTDP har lovande effekter vid komplexa och behandlingsrefraktära tillstånd. Eftersom evidensbasen för ISTDP fortfarande har en hel del luckor kan den här typen av studier i nuläget fylla i en viktig funktion.
Om fler corestudenter väljer att på ett mer systematiskt sätt utvärdera och sammanställa resultaten av sina behandlingar, söka tillstånd från etikprövningsmyndigheten och publicera sina data så kan detta bli viktiga bidrag till forskningsläget. På sikt kan det då (förhoppningsvis) bli lättare att få större anslag för att göra större och mer välkontrollerade studier än vad som har gjorts hittills. Det vore också bra att veta mer om de begränsningar som ISTDP har: Finns det särskilda patientgrupper som inte bör erbjudas ISTDP?
Tveka inte att kontakta föreningen om du går i tankar att forska på de behandlingar som du bedriver under eller efter Core.
Malda Castillo, J., Valavanis, S., & Perez Algorta, G. (2020). Short Term Psychodynamic Psychotherapy (STPP) for Clients with Complex and Enduring Difficulties within NHS Mental Health Services: A Case Series. Psychoanalytic Psychotherapy.
---
Här är våra fem senaste artiklar om ISTDP-forskning: